Taste your way around the world in 18 days with MeltedInside.com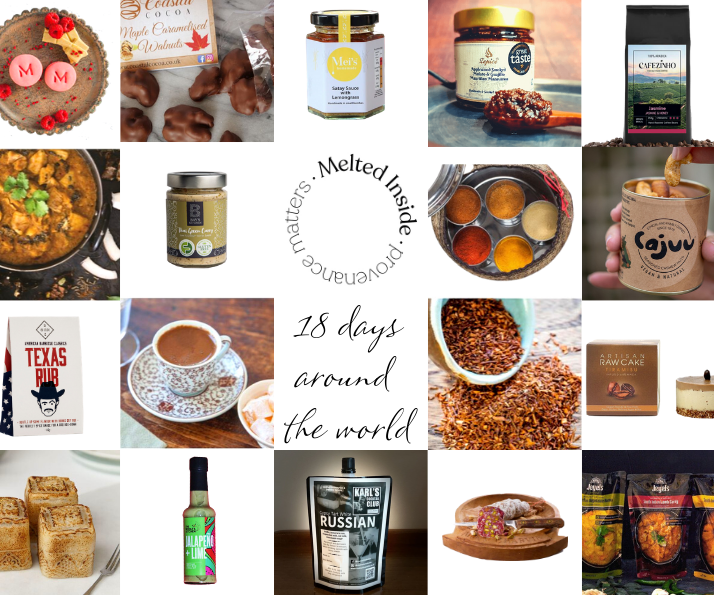 Taste your way around the world in 18 days with MeltedInside.com
While many of us are looking forward to planning holidays and trips after the lockdown has been lifted, we don't necessarily have to wait to enjoy the delights of international flavours. www.MeltedInside.com's makers came from all corners of the planet and they can take you on an 18-day world adventure of flavours in the comfort of your own home.
MeltedInside.com's founder Candy Bowles is a self-confessed foodie and globe trotter with 40 countries under her belt. She is proud to offer a huge range of flavours and products on her platform. These makers' products have been inspired by time abroad or their birthplace and others just wanted to create something extraordinary and magical to eat or drink that met their special dietary needs.
The UK - days one and two
The ancient Greeks cultivated beetroot around 300 BC, but they didn't use the roots of the plant and only ate the leaves. Now this health-enhancing vegetable is gaining its popularity in England. Beetroot is one of the vegetables that RE100 founders Robert and Ed has decided to turn into healthy crisps. They are natural and air dried with nothing else added.
For our next treat we go to the English county of Kent and add an Eastern European twist to create this luxurious liqueur with the flavours of a Kentish Gypsy tart. The traditional cocktail known as a Black Russian, which first appeared in 1949, becomes a White Russian with the addition of cream. Neither drink is Russian in origin, but both are named due to vodka being the primary ingredient. This pre-mixed cocktail called Kent Gypsy Tart White Russian is made with evaporated milk, oat milk, muscovado sugar, demerara rum, vodka, espresso coffee and coffee liqueur. It is just one of a wonderful selection created by Carl – owner of Cocktail in a Bottle – in Deal on the East Kent coast.
France – day three
If you are dying to go to France then some treats from The French Comté is the next best thing. Maker Florent, native from the Franche-Comté region near the Swiss border in French Jura Mountains, comes from a long line of farmers, butchers and craftsmen. Now he has brought the flavours of his mountains to the UK. His Saucissons Pistachios combines two French favourites to entice your tastebuds mainly a local breed of pork called 'Le Franc-Comtois' which is used to make the region's traditional slow-smoked and cured meats. It is no exaggeration a slice of their cured meat will give one a slice of France.
Italy – day four
These Italian-inspired tiramisu raw cakes have a South American twist with the addition of Maca – a Peruvian ginseng and thought to have a range of health benefits. Maker Honey & Date specialises in making delicious treats from healthy ingredients including superfoods. All products are free from gluten, dairy, soy, and refined sugar because they believe that absolutely everyone should be able to indulge in delicious treats. While enjoying the tiramisu cake you can imagine yourself walking the cobbled streets of a beautiful city in Italy.
Turkey – day five
What's more decadent than starting the day in the stylish way in Turkey with an authentic Heritage Turkish Coffee. Maker Özerlat has been making and selling gourmet Turkish coffee for just over 100 years. The company's founder Dervis 'Tahmis' Özerlat started the business in 1917 in Nicosia. Today Tahmis's grandson Dervis Özerlat maintains the traditions and standards set by his grandfather, roasting and grinding fine Arabica coffee in Nicosia premises and now bringing exceptional Turkish coffee to the UK.
Morocco – day six
This amazing spice tin of Spice Kitchen, founded by mother and son team Sanjay and Shashi, will take you to magical Morocco. Presented in a lovely and practical stainless steel tin with 10 of the key Moroccan spices and a free recipe book, it's an ideal gift for a foodie who loves to create their own Moroccan dishes and tagines.
This is one of a range of interesting products offered by Spice Kitchen. This maker sources the freshest spices and teas from around the world for their customers before carefully hand-blending, roasting, grounding and packing just before sending.
Tanzania – day seven
From Morocco we head South to Tanzania where we can indulge our taste buds with the tantalizing flavours of Mango Moa Cashews with Chilli Dip Tray from Cajuu, a family business founded by Habil.
The inspiration for this snack comes from Moa – a village in northern Tanzania renowned locally for amazing quality mangoes. The cashew nuts are soaked in mango, seasoned with tad of salt, pepper and ginger and then roasted to perfection. In keeping with tradition, the maker has created an accompanying chilli dip which contrasts wonderfully against the fruity notes of the cashews.
South Africa – day eight
Also from the African continent we have the rare South African Wild Rooibos Loose Leaf Tea. It is also known as red bush or bush-tea and is naturally caffeine free. This rooibos grows wild in the Cederberg Mountains of South Africa. It is harvested only a few times a year on horseback with machetes to protect the delicate ecosystem - making sure that no damage is done to other indigenous flora or fauna. A percentage of revenue from Rare Tea is invested into Rare Charity which implements social change for people working on tea estates through education. Drinking the tea and knowing all the good it is doing can't fail to be rather soothing and relaxing.
South America – day nine
Next we fly to South America for a delicate twist on the traditional Alfajores biscuits with a tangy, tropical and fruity touch. Lemon curd and coconut lime has been combined with tangy yet sumptuously creamy raspberries and white chocolate by Margot and Montanez. These fruity, delicate and melt-in-your-mouth, speciality biscuits are carefully handcrafted in the UK following the founder's late grandmother's 50 year-old recipe.
Brazil – day 10
How can we have cake without tea? Now time for another amazing speciality coffee – this time from Brazil. You have to climb the mountain range of Serra do Caparao, between the states of Minas Gerais and Espirito Santo, for this high-altitude speciality coffee which has an unusual aftertaste of Jasmine tea. It's a place of lush fertility and natural beauty and at 1,450 metres is one of the highest parts of Brazil. Take a moment - close your eyes while drinking the coffee and slow down to enjoy the flavours from the mountains of Brazil.
Mexico – day 11
We now go up past Central America and to Mexico, where over 150 varieties of chillies are available. Founder of Woolf Kitchen Dominique's Jalapeno and lime sauce is feisty and fruity – it goes perfectly with anything Mexican like tacos, burritos, chilli, chips and dips and guacamole, but also great drizzled over falafel wraps, prawns or smashed avocado and poached eggs. Each of Woolf Kitchen's three spicy sauces has a heat rating and this one is 4/5 or Fierce Woolf - so be careful.
Texas – day 12
Maker BOHNS is an expert in making meat and fish taste as good as it possibly can. They take us north from Mexico and across the border to the southern United States to try their Texas Rub. The rub adds wonderful flavour but doesn't overpower; it helps you to easily create the great taste of southern American BBQ at home. Texas rub adds flavour and colour producing the heavy, smoke infused outer spice crust desired by the most perfectionist BBQ pit masters. Check out their quirky packaging.
Canada – day 13
Inspired by the wonderful maple syrup produced in Canada, these Maple Caramelised Walnuts from Coastal Cocoa are caramelised in Grade A maple syrup with cinnamon and salt are enrobed in 45% milk chocolate. Who can resist the combination of walnuts and maple? Artisan James Bridger makes all of his chocolates by hand in Hastings, East Sussex.
Indonesia – day 14
This Indonesian Satay sauce, inspired by maker Mei's Asian roots, takes the hard work out making delicious food. It's nutty and light, packed with flavours and rich in texture with a subtle fragrance of lemongrass and the refreshing taste of lime combined with creamy coconut. The authentic Satay flavour will help your mind travel to the warm climate.
Mei, originally from Hong Kong, started making ready-to-use Asian and Oriental style sauces at home to provide her family with quick, delicious and healthy meals for their 'on-the-go' lifestyle. Her sauces have no artificial colouring, flavouring or preservatives and are 100 per cent plant-based, 100 per cent natural and most of them are also gluten free.
Thailand - Day 15 -
Thai green curry is one of Thailand's most well-known dishes but it's often not an option for those on special diets. Maker Bay Burdett, founder of Bay's Kitchen, developed her Thai curry sauce and others in the range after years of suffering IBS. Her aromatic Thai Green Curry sauce is medium spiced, yet creamy with fresh flavours of coconut and lemongrass, Low FODMAP, gluten, dairy free and vegan.
South India – day 16
We head to South India with a collection of South Indian Curry Sauces from Jeyel's Foods Ltd. Originally from South India, our maker Jeby moved to the UK and was surprised to find very little in the way of South Indian food in local supermarkets. Memories of cooking with his mother inspired Jeby to recreate the tantalizing flavours of his family's traditional recipes here in the UK. Each sauce is tailored to bring out the flavour of specific meats or vegetables and made with 100% natural ingredients. When a maker misses his childhood food, that propels him or her to make the most authentic flavours.
Mauritius – day 17
For a little extra heat we urge you to try the Mesquite Smoked Ancho and Pasilla Mazavaroo Gourmet Chilli paste inspired by the maker's time in Mauritius. It's a smokey, rich, fruity gourmet paste with hints of grape and liquorice. Zepice offers a range of fusion blends with curry powders, rubs, seasonings and jams that take you on an exotic culinary adventure.
Jamaica – day 18
We finish our adventure with a rest on the sandy white beaches of Jamaica. You will be enjoying Mini Mamma's Jamaican Simnel Cake which is handmade by Woolery Forbes using a timeless family recipe. It's a wholesome and natural little simnel treat decorated with toasted marzipan.
We hope you enjoyed your world tour of flavours. Visit Melted Inside and continue your journey and explore other new foods.
More about Melted Inside
meltedinside.com exists to share the love of what artisan makers do every day and the love they put into creating products for shoppers looking to buy real food from real people. If you are an artisan food maker and interested in joining Melted Inside please email artisanteam@meltedinside.com
Melted Inside is a member of the Good Market community - a curated platform that makes it easier to find and connect with social enterprises, responsible businesses and changemakers who are creating a better world.