Don't let lockdown get you down - spoil your mother even if you can't take her out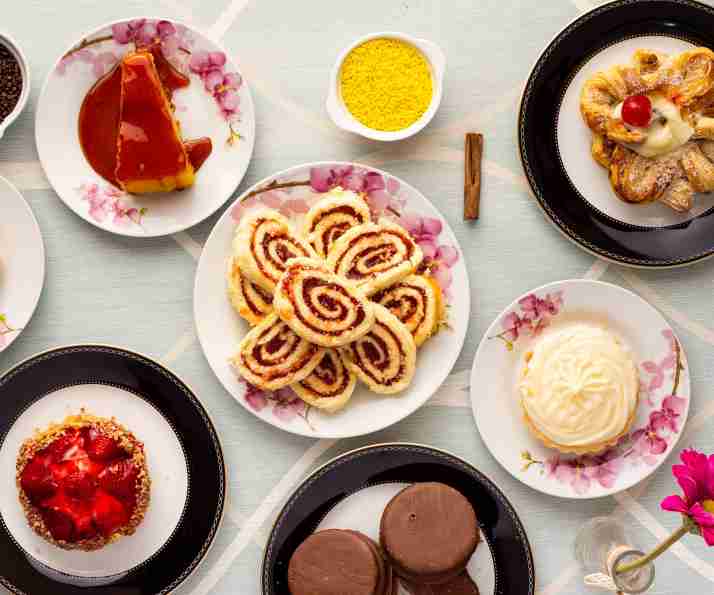 Don't let lockdown get you down - spoil your mother even if you can't take her out
Feb 18, 2021
Taking our mum out for a Mothering Sunday treat is unlikely to happen this year but we can still spoil our mums by arranging up the perfect high tea at home, or sending the special lady a selection of delicious, artisan-made gifts.
Everyone loves a surprise and having a lovingly produced package of edible goodies arrive on her doorstep will make your mother's day a touch more special.
If your mum loves her afternoon tea, make sure she has the finest preserve. On the new beautiful artisan food and drink platform www.meltedinside.com you can order Deerview Fine Foods' jumbleberry jam to accompany your home-made scones.
For more sweet treats, we have a selection of cakes that will make your mother feel like a royal.
You can't beat a freshly made lemon drizzle loaf from Caroline Bakes Cakes in Lancashire; there is even a wonderful gluten-free version lemon drizzle cake from Davina Steel in Essex who is also a nutritionist. These retro vanilla chocolate teacakes by the amazing La Fleur de Chocolat by Jacqueline in Hereford will also go down a treat.
For mothers who are vegan you must try the made-to-order Mini Cake Jars Box from Miss Apples Mini Bakery in Birmingham. These delicious and bite-size cupcakes contain layers of super-moist vegan cake and creamy flavourful vegan buttercream. Karen who makes them will even wrap the cakes in ribbons and tissue paper in any colour you choose.
An equally delicious taste sensation are the products from Charu's Biscottilicious. The Rose' Biscotti Gift Box is made with love in London. It's a walnut biscotti enhanced with a hint of rose oil and a little burst of extra sweetness from dates. Enrobed in silky smooth white chocolate and hand-finished with luxurious dried rose petals, this will complete the high tea at home experience.
For more treats with a nut theme there are the tasty Cocoa Orange Nutty Nibbles which are vegan, gluten and free from refined sugars.
Pair the sweet delights with some speciality tea from Hoogly Tea by Tina, originally from Denmark, who offers a gift box with four indulgent varieties, or try artisan coffee from St Martin's Coffee Roasters You could really push the boat out and send your mum a pre-mixed Cosmo de Provence cocktail from Cocktail in a Bottle in Kent.
If you prefer to send an amazing gift, the MeltedInside.com team has come up with a few more eye-catching options from the hundreds on offer.
Wicked and Wonderful Chocolates produce handcrafted, luxury artisan chocolates using only natural ingredients. Their Pink Marc de Champagne Truffles are made from silky white chocolate infused with the heady note of Marc de Champagne and finished with a sprinkle of raspberry powder.
Deliciously different is The Cocktail Collection Truffle Box by Richard and Julie's Coco Chemistry in Wiltshire which contains six cocktail flavours with intense fruit flavours and a delicate alcohol finish.
For gluten free and vegan options, the beautiful chocolate creations from our popular The Painted Peacock by Yugna such as the 70% dark chocolate bar are a thoughtful choice. Each one is a work of art and delicately packed in a biodegradable and compostable sleeve.
Another award-winning maker is Luisa's Vegan Chocolates. Luisa's mixed artisan chocolate truffle box is vegan, soy-free, gluten free, has no refined sugars and is also dairy free.
If you think your mum would like to add some colour to her drinks collection, she might love this vodka and blackcurrant liqueur from Sloeberry Spirits or this playful Marilyn Monroe pink gin from Burleighs which will really brighten up the drinks cabinet.
Another eye-catching and beautiful bottle contains violet gin shimmer liqueur from Riverside Spirits. (At the age of 70, founder Christine launched a preserves business which evolved into Riverside in 2014. A shining example of the willpower of a woman.) Or if your mother prefers to abstain and wants to drink something delicious, you could send her a pack of mixed flavoured kefir water from Agua de Madre Water. It's a real treat for the gut - every 100ml contains a mind-blowing 55 billion live cultures.
And while you are spreading the love, don't forget to indulge yourself a little. We all need to eat well during the pandemic and with www.meltedinside.com you can source everything from artisan honey, pasta, cheese, charcuterie and chocolate delivered to enjoy in the safety and comfort of your own home.
Founder Candy Bowles launched Melted Inside last year to offer people a greater choice of lovingly made products during a time of isolation and social distancing.
She explains: "We cannot go out and celebrate this year with our mothers, but we can still give them small, special experiences in the safety of their own home, letting them know we do appreciate what they have done for us.
"We consistently receive positive customer feedback for the quality of our makers' creations. Many of them are great for Mother's Day and the giver has the reassurance that anything they buy has been made with love, quality ingredients and by an artisan maker."
More about Melted Inside
meltedinside.com exists to share the love of what artisan makers do every day and the love they put into creating products for shoppers looking to buy real food from real people. If you are an artisan food maker and interested in joining Melted Inside please email artisanteam@meltedinside.com
Melted Inside is a member of the Good Market community - a curated platform that makes it easier to find and connect with social enterprises, responsible businesses and changemakers who are creating a better world.

Image credit: Julio Melanda, Pexels
ENDS
For more information, interviews, images or if you would like to review one of Melted Inside's products please contact Suzi Christie Suzi@blueberry-pr.co.uk 07590 591140