Planning for the most unusual Christmas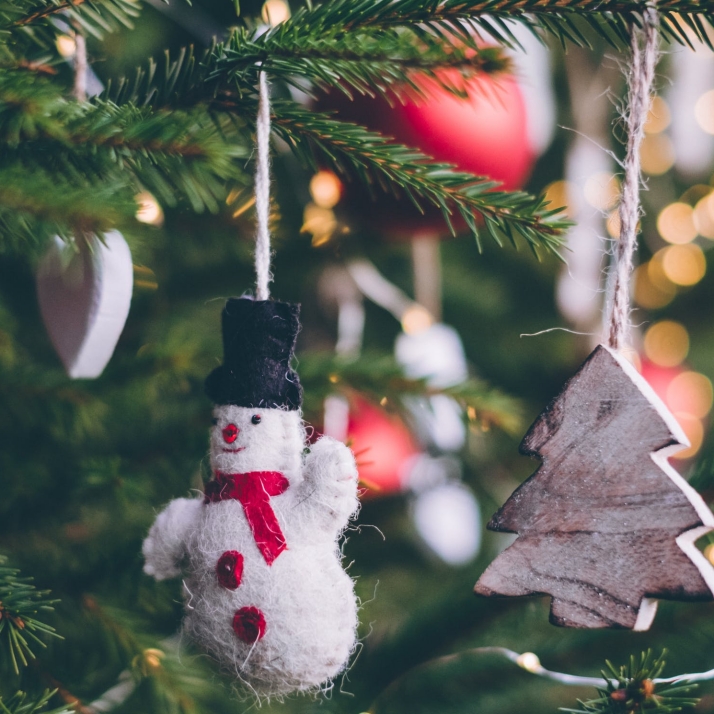 Planning for the most unusual Christmas
Christmas.
The one occasion we've held onto that might just be more normal than the rest of 2020.
Sadly, it's looking likely at the moment that pretty much all of us will be subject to restrictions of some sort. If you usually get 20 of you around the table from different households, then you're going to be looking at a very different kind of gathering.
Given we are likely to be restricted to our household or bubble, what can we do to make the most of a different situation as well as get ahead a bit now? Here's some thoughts from the team here.
Still doing favourite things together
For your household, what's everyone's favourite thing about Christmas? It might be that you always go full-on with your hot chocolate before settling down to watch a Christmas movie together. Maybe you get bundled up and go out and do a neighbourhood tour to see the lights and decorations.
For many of the things that happen around the home then they'll probably still be possible. Just make sure to add them into your plans. Whatever else might not be happening, making the most of the things your loved ones really love that you can still do will make it feel more like Christmas.
Ask them. You might be surprised by the answers.
Let's not do that
On the flip side, there's bound to be something that no one really looks forward to at Christmas. It might be Great Aunt Maud's insistence on boiled sprouts.
Competitive charades.
Watching the Sound of Music. Again.
Whatever it is, with just your bubble to please then this might be the year that you can be bold this time and skip those things. It's also a fantastic opportunity to try something new instead. You can finally try shredding and frying your sprouts with chorizo without Maud kicking off (Sorry, Aunty Maud!)
You could try out a new board game, or a pub quiz at home.
And as for the Sound of Music? I bet even Julie Andrew is fed up with that one!
Throw it all out the window
If you're not having to keep Great Aunt Maud, your fussy brother and the picky father-in-law happy this year, then maybe Christmas eating could be completely different.
Christmas Day pizza? Sure, why not?
Or a Chinese feast or curry banquet? Perhaps a pile of cured meats and amazing bread. Cheeseboards if you love them, brownie boards if you don't.
Whatever it is, if your bubble loves it, then now's the time to give it a whirl. It also frees you up from the kitchen madness, worrying about whether the turkey will fit in the oven and having to look up again just how long it needs to cook for.
All-day running tapas buffet anyone? In your own home, there are no limitations on what you can do.
Award yourselves an upgrade
If you're only catering for six, not twenty-six this year, then you might choose to spoil yourselves. And why not? After the year we've all had, we could do with a pat on the back.
Whether it's black truffle to grate on scrambled egg, or some indulgent handmade chocolates instead of a supermarket supersized chocolate tub, this might be the year to buy less of better. Whatever you usually have, there's probably an artisan maker out there doing something just a little better with the same thing.
It doesn't have to be something too unusual; it might just be some jam or pickle made by hand rather than a big national brand. You might find flavours that you've not tried before or things that don't often appear on supermarket shelves because the household names don't make them.
Who knows? A spicy pineapple chutney may be just what your Boxing Day turkey sandwich has been waiting for.
Shopping with an artisan maker might just make your Christmas, and probably theirs as well.
Share the love
Perhaps you've discovered an artisan maker creating something you really love. You might even have planned to serve it if everyone was coming round to yours.
You might not all be together to enjoy something, but you could send the same thing to your loved ones for them to try. Maybe all get on Zoom and enjoy it together, even at a distance. Cheese and wine night, anyone?
Get your meal plan together now
I don't think it'll be a surprise that there'll be a massive move towards online shopping for this year's festivities. Don't get caught out by delivery times getting longer, or more expensive.
Now you've got an idea of what everyone wants from your festivities, then you could start putting a plan together. You could also start to order things now that will happily sit in your pantry and cupboards until you need them. It'll make it less stressful in that final few days, nervously waiting on the courier.
Time for a winter clean
Talking of your kitchen cupboards now is a great time to have a clear-out and check on precisely what's in there. You might find something hidden at the back that could be just the thing to liven up your Christmas eating.
Let's hope for things like that, as opposed to something that has most definitely seen better days!
It also helps you not to spend money on things it turns out you already have. That means either a saving or money to spend on something else instead. If it turns out you've got five perfectly good pickles back there, then maybe add some different cheese to your plan to see what pairs up the best with them.
Keep things fresh
It's always a good game to see what's the oldest thing in the cupboard. But one thing that really needs updating regularly is your herbs and spices.
A good, fresh spice can liven up even the most basic of dishes. It's worth making sure things like a Boxing Day turkey curry isn't a bit lacklustre just because your curry powder's been in there since Christmas 2010.
If you want to give them a check, then rub a small pinch in the palm of your hand and take a sniff. Nice spices tend to smell still nice, as simple as that. If it's musty or lacking in aroma, then it's probably time to replace it.
No one wants a disappointing dish at any time, but particularly not this year!
Do it by Zoom
Whether you all used to get together on Stir Up Sunday to make your Christmas cakes, or decorated gingerbread houses together, then Zoom might help keep some of that tradition going. A bit like many things this year, it'll be different but there'll be chat and laughs plus the benefit of seeing each other.
Or turn your catchup with your parents into a surprise party with other relatives joining on there as well. Tell them you're going to have a drink together, so at least they're organised on that front, and then everyone else can join in too.
Yes, it won't be the same, but this year we can only try and work with what we've got. You could get out your partywear, make a playlist, get the streamers going, whatever you need to make it feel like a party for you.
Helping others
If you're not spending as much as on a "normal" Christmas, then perhaps you could consider donating to your local food bank. The Trussell Trust is expecting a 61% increase in food bank use by the end of the year.
Could you help brighten up someone else's Christmas? Search for your local food bank to see what they need at the moment, or find out more on the Trussell Trust's website.
Whatever you celebrate this winter, or however you do it, food and drink still have a role to play. It might be different to usual, but that doesn't mean it won't be any less special, or memorable than in a "normal" year.
What are you planning? We'd love to hear your ideas and plans.